Are you planning to build your future home in South Finistère and you're not sure whether to go for a single-storey or split-level home? Polimmo La Maison, specialists in custom-built homes, can show you all the advantages of these single-storey homes.
The advantages of
single-storey houses
In a single-storey house, there are no upper floors and therefore no stairs! All the rooms are on the same level, and there's no loss of space due to the presence of a staircase. You can fit out your home much more easily.
The other advantage of not having an upper floor is that single-storey homes are perfectly suited to the elderly and people with reduced mobility, and are also ideal for bringing up young children! There's no effort required to move from one room to another, no obstacles and above all no risk of falling!
What's more, the height of the house itself is low, and exterior maintenance is simplified: a simple ladder is all you need to access the roof, gutters and so on.
Another advantage is that it's easier to heat one floor than two. So living in a modern single-storey house means you can limit your energy consumption.
Finally, each room opens onto the outside, so each can have direct access to the garden or a terrace.
Build
your single-storey home

with Polimmo La Maison

Polimmo La Maison, a specialist builder of custom-built detached houses in Finistère, designs, among other things, modern single-storey homes. To help you imagine your future home, here are a few examples of made-to-measure creations.
Modern 89m2 T3 bungalow in Brittany
A master suite, a dressing room, a central patio, a large, magnificent bathroom... This beautiful, modern single-storey home has plenty to offer!
The Polimmo La Maison team will think through every detail of your construction project: we'll draw up the plans so that your future single-storey home is just right for you!
Find out more about the price of the 89m2 single-storey modern house on its dedicated factsheet.
Building a modern single-storey house 119m2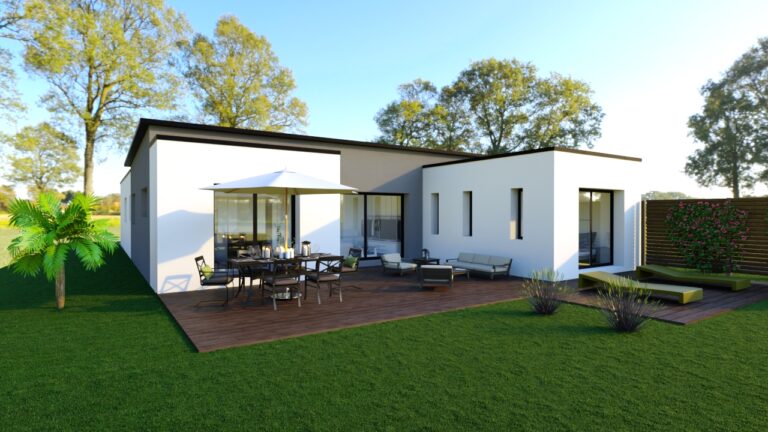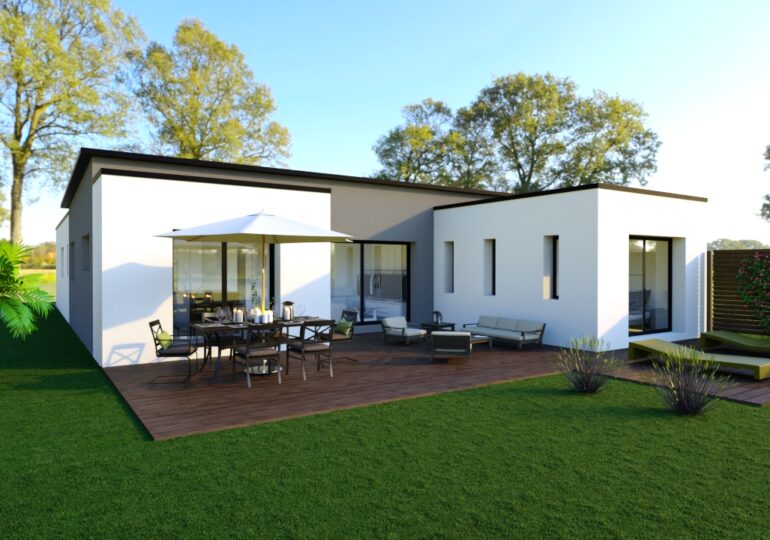 A master suite and two bedrooms make this large, modern single-storey house the ideal place for a family to live. Other features include an attractive open-plan kitchen, as well as a room that can be used as a storeroom, study or children's playroom.
With its light and practical, well-thought-out layout, this detached house will win you over with its spaciousness!
Find out more about this modern single-storey house of 119m2
Entrust your house-building project to Polimmo La Maison
Polimmo La Maison, a builder of custom-built, single-storey homes in South Finistère, will help you with your project, from drawing up the plans to moving in! As part of our service, we also offer regular quality monitoring of the progress of your building project.
All our single-storey homes comply with current RT2012 standards and regulations.
Are you attracted by the houses we have unveiled and do you have a building plot? Contact us now so that we can start designing your future single-storey home together.