Are you planning to build a modern house in Finistère? Do you want a single-storey or two-storey house? Polimmo La Maison can put its expertise at your service to build you the custom-built house with all the features you've been dreaming of.
What is a home
modern

?

Polimmo La Maison specialises in house building. We offer three different architectural styles: traditional, contemporary and modern.

The traditional house has features that are typical of the region's architecture. In Finistère, for example, so-called "traditional" houses feature a slate gable roof and stone cladding around the doors and windows.

The architecture of a contemporary house is inspired by the style of its time. Pure lines, large glazed surfaces, innovative materials and the absence of exterior decoration are its main features. They often feature rectangular or cubic volumes and noble materials such as stone, glass or wood.

Our construction of modern-style house The architecture of these homes is pure and simple. They are distinguished by their terrace roofs or flat roofs. Light is king, with large bay windows allowing the inside and outside to blend into each other. These large windows mean that you don't need to turn on the lights in every room, and that your energy consumption is kept to a minimum.
Polimmo la Maison builds your home
ideal modern home
Do you fancy a modern house for your future home in Finistère? The team at Polimmo La Maison, a house builder, can help you with your construction project. We work with you to create your modern custom-built house. We listen to your needs and make them a reality, from drawing up the plans to handing over the keys, including, of course, the construction.
If you don't have a plot of land at this stage of your project, our team can offer you a range of plots of land for sale or for development through one of our subsidiaries. These plots of land can be located in Finistère or Morbihan, and are excellent locations for building your future modern home! Don't hesitate to ask your advisor at your first appointment.
Discover examples of
modern houses

designed by Polimmo La Maison

Polimmo La Maison builds your contemporary home with exceptional features throughout southern Finistère. Whether you're in Pont-l'Abbé, Fouesnant or Quimper, we'll take care of building your future home. Take a look at two of our homes, which can be adapted to suit your needs!
Our modern house in T4, 115m2
This modern family home offers three bedrooms, two bathrooms and a spacious 45m2 living room. We can adapt this quality development to your plot and customise it to suit your needs.
Prices start from €180,000, and can vary according to the degree of customisation you choose for your project. You'll also benefit from the following services: construction insurance, warranties, connections to the various networks if your plot is located on a housing estate.
Discover all the information and plans for this project.
Our T6 modern house, 160m2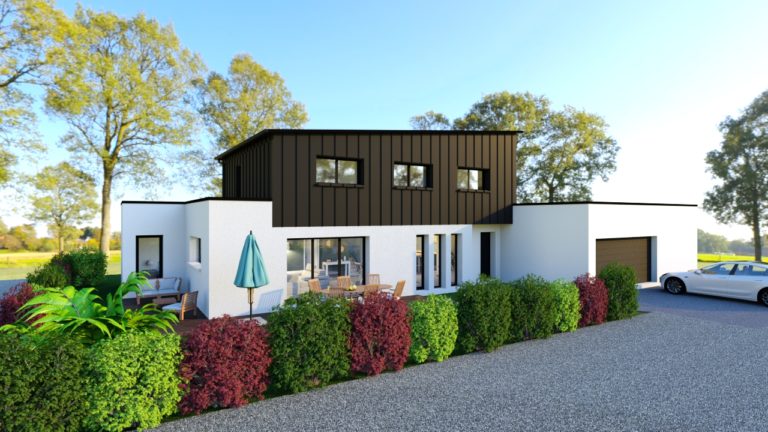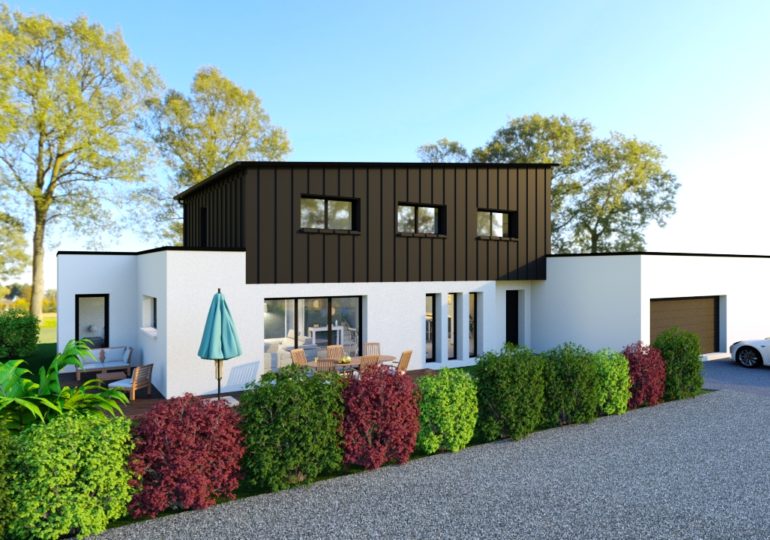 The surface area and number of rooms in this modern house make it the ideal refuge for large families! It has five bedrooms, perfect for welcoming your children as well as your friends. The large living area is perfect for large gatherings in a bright, spacious space. We can adapt this beautiful home to your family's needs.
You can start building your home for as little as €279,000. You'll also benefit from the following services: warranties, building insurance, connections to the various networks if your plot is located on a housing estate.