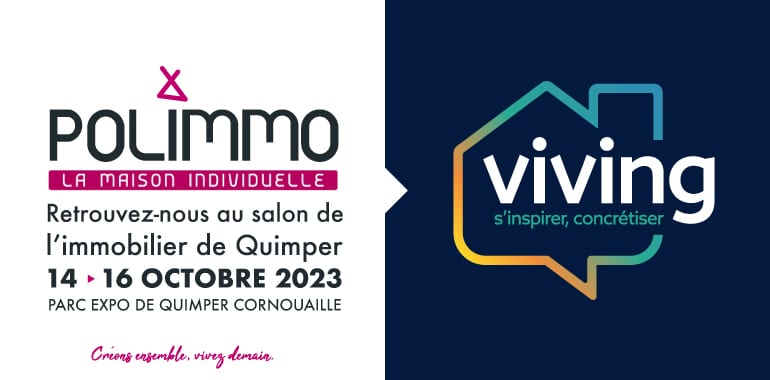 The Viving Habitat et Immobilier show will be held in Quimper from 14 to 16 October 2023 at the Parc Expo. The Polimmo La Maison team will be there, so come and meet us on our stand!
Make your
building project

at the show

This eagerly-awaited regular event brings together around a hundred exhibitors specialising in building or extending property, interior and exterior decoration, renovation and more.

Our team is waiting for you on its stand to discuss your individual house-building project with you. If you already have a good idea of what you want, don't hesitate to bring along all the documents you already have in order to move your project forward. If you're looking for inspiration, we can show you our customisable designs and advise you according to your wishes and budget.

We're here to help you realise the project of a lifetime. Our know-how and expertise enable us to design your custom-built home. Take advantage of the Viving Habitat et Immobilier show to meet the professionals who are right for you.
Our examples of
customisable creations
At the show, you can discover some of our creations. We design contemporary, modern or traditional single-family homes, whether single-storey or two-storey, with the well-being of residents as our creative focus, developing practical spaces that are a pleasure to live in.
Traditional single-storey house
This pretty traditional corner house has two bedrooms and a flat-roofed garage. Large bay windows bring light into every room. This single-storey house offers comfortable living space of 70 m2, including a sleeping area comprising two bedrooms with fitted wardrobes and a shower room.
The living area features an open-plan kitchen with a central island, creating a warm, friendly atmosphere.
Modern house 133 m2
Its charm and originality are immediately apparent: contrasting colours, play on heights... This bright family home has been designed to provide a haven of comfort for all members of the family. Four bedrooms, one of which is part of a master suite on the ground floor, bathroom on the first floor, garage, utility/laundry room... this house with its generous floor area is perfect for a family.
Get inspired by this creation to design your own bespoke family home!
Contemporary house 140m2
A magnificent family home open to the outdoors! A beautiful 48m2 living room is the perfect place to spend time together and 4 bedrooms, including a master suite on the ground floor, provide the privacy everyone needs. Original in its atypical style, this contemporary house offers half-level living.
Meet the Polimmo La Maison team
on stand B28 at the Viving Habitat and Property show
from 14 to 16 October 2023, at Parc Expo Quimper Cornouaille!